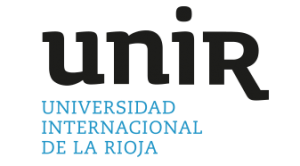 Universidad Internacional de La Rioja – UNIR (Spain) is a 100% online university founded on a global vision of education directly linked to the market and the Society. UNIR facilitates an exclusive, innovative and high quality virtual model of higher education, which leans on a personalized, pro-active, and collaborative distance learning method of instruction.
UNIR provides international courses, in English and Spanish, and comprises an academic community of over 1.000 highly knowledgeable lecturers across the world, along with a strong team of more than 500 multidisciplinary staff members (including 200 tutors), working on research projects and support services (i.e. tutoring, legal, publishing, editing, technical, administrative, et cetera). Student number keeps increasing exponentially: over 26.000 in 2017. UNIR has premises in Spain (Logroño and Madrid), Colombia (Bogota), Argentina (Buenos Aires), Bolivia (Santa Cruz), and Mexico DF (Mexico), along with a number of collaboration agreements with Latin American and European universities, mainly. Furthermore, UNIR works hard to remove barriers, and to eliminate distance for learners with different profiles so that they can study at anytime and anywhere.
UNIR will work in this project trough Research Institute for Innovation & Technology in Education (UNIR iTED). Research at UNIR iTED covers the various scientific and humanistic fields of study (i.e. Communication, Social Science, Education, etc), with particular emphasis on the information and communication technologies (ICT) applied to education (Technology-Enhanced Learning and Learning Innovation). UNIR iTED develops various programmes and research lines in Educational Technology, within the framework of the Spanish National R&D&i Plan, as well as within those of the EU 7th Framework Programme, ERASMUS+ and H2020.
Why we are Participating in the Project
In the context of EduHack project, UNIR has a longstanding experience in eLearning, learning innovation and Open Education development, testified by the fact that it holds a UNESCO/ICDE Chair on eLearning and OER. Further, UNIR has experience in the organisation of hackathon events such as the HACKFORGOOD project, supported by Telefonica in Spain and gathering more than 20 universities.
Our Role in the Project
UNIR will lead the preparation and development of the EduHack Curriculum and course, and will organise one EduHackathon in Madrid. Further, the partner will participate in project management, dissemination and will contribute to the preparation of all Intellectual Outcomes.
Our Team

Daniel Burgos
Vice-chancellor for Knowledge Transfer & Technology
Daniel is a Full professor of Education & Communication Technologies at UNIR. He also holds the UNESCO Chair on eLearning and the ICDE Chair in Open Educational Resources at UNIR. He has been involved in a number of R&D projects. He holds degrees in Communication, Computer Science, Education, Anthropology and Bussiness Administration.
Splot.Link

Fabio Nascimbeni
Senior Project Manager
Fabio works as an Assistant professor at UNIR. He has experience in research, policy advisor and strategic consultancy in development, ICT research, knowledge society developments with more than 40 research projects designed and coordinated across Europe, Latin America, The Caribbean and South-East Asia.
Splot.Link

Joaquín Alonso
Senior Project Manager
Joaquín holds a Law degree. He has been working in research management activities for Spanish regional governments, institutions and employers' associations. He has run the R&D regional plan for the Region of Cantabria, including ERDF operative programs and several FP projects. He manages national, European and International research and innovation initiatives within UNIR.
Splot.Link