Guide and support students through e-moderation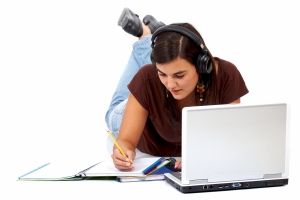 Online or e-moderation is at the heart of practically all eLearning activities, unless the course has been deliberately designed to be what is sometimes called a 'standalone' or 'self-paced' learning experience. In general it means the practice of managing the online communications that can, and definitely should, be taking place amongst the teacher, students and any other individuals involved.
This communication can be uni- or bi-directional, can be one-to-one in the sense of being between individual students or the teacher and an individual student or among all students taking the course or sub-groups organised in either a formal or informal way. This communication can be at a very basic level in that it can relate to the most administrative of tasks or activities (start and end times of assignments for example) or it can support simple clarification of issues and questions that arise. Such communications can also form part of the formal course activity such as with online role plays or may be part of the assessment procedures for the course in that students can be assessed on the quality and depth of their contributions to online discussions. So all in all, getting e-moderation right for the course leader is vitally important and many people argue that effective e-moderation is absolutely crucial to the success of any eLearning endeavour.
Aspects that teachers need to consider when taking on the role of e-moderator for the first time include Netiquette which is the term that generally describes the set of rules for acceptable online behaviour. Whether you use an existing set of such rules, perhaps your university already has such rules, or you set them up at the beginning of your course, it is useful to agree what is and what is not acceptable in terms of online communications during your course. Here, for example, is the netiquette of Helsinki University.
In this video Prof Gilly Salmon, a well-known eLearning design expert, is using a mountaineering metaphor to explain her 5-stage model of guidance and support that students need at various stages in their online learning journey. (duration: 4:47)
This video from the Australian Learning and Teaching Council provides a good justification for online discussions with input from different academics about how and why they use online discussions. (duration: 6:41)
(estimated time to complete the task: 1 hour)
The best way to become familiar with the dynamics of online discussions is to take part in one. Therefore your task in this activity is to follow one of the weekly Learning and Teaching in HE chats (#LTHEchat) that take place on Twitter every Tuesday at 8-9pm (GMT). These chats provide an opportunity for educators in higher education to discuss innovative practices and connect with colleagues working in other institutions and contexts.
The conversations take place around a Twitter hashtag (#LTHEchat) and participants are expected to answer a number of questions and share their perspectives on the topic of the week.
You can find more background information and the details of next chats on this website. These slides offer you an overview and tips for participation. Ideally you will be participating synchronously in one of the chats. If for any reason you prefer not to do so, you can still follow the chat without having to create a Twitter account. Simply go to https://twitter.com/LTHEchat.
Here you can find a list of other education chats organised through Twitter hashtags.
While you are participating one of these chats, think about the following questions and write a blog post on your own blog or the EduHack Wall describing your experience.

How many people are actively contributing as a % of the number of people connected?
Is threading possible and if so, how is it managed (a thread is a sequence of responses to an initial message posting. This enables you to follow or join an individual discussion from among the many that may be there)
How active is the discussion leader in following up specific discussions?
How engaged do you feel in the discussion?
Are any, or all, of the questions you would like to ask being answered?
How could you use such a discussion in your own online courses?